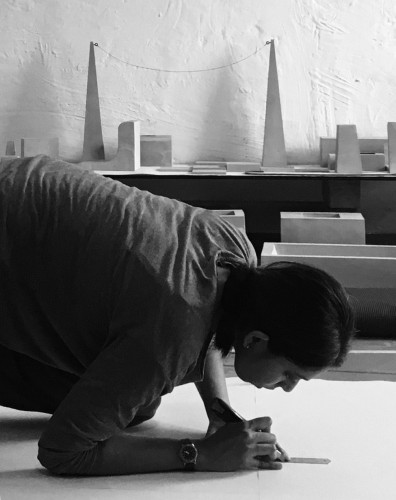 "Shreya's sophisticated sculptures, cast in cement concrete, are developed through a critical engagement with her own body and its relationship to objects of daily use. She speaks of casting and the making of 'A House for a Single Person' as borne of a need to dwell into a deeper experience out of ordinary acts.
Etched with geometric drawings of her built structures, her metal wall pieces are corroded with acid and then washed with resin to resemble a raw, earthy surface, in terracotta tones. What Shreya creates is a sense of the "ground" as surface, or even as platform, in keeping with the earliest signs of domestication, with an emphasis on the essential functions of cooking, bathing and sleeping. Perhaps her most elusive image is that of a house, whole but distant, projecting off the face of a cascading rock. The drawing reminded this writer of a visit, several years ago, to the Himalayas. The horizon appeared blocked by a near vertical mountain face. On the surface of the stone, that glinted and reflected the evening sun, a solitary figure appeared to be climbing, the ochre of his robes unmistakable in the slow, treacherous ascent. Rising on the steep gradient much above, diminished by the distance was a small hut, a hermit's refuge, perilously perched on the rock face. A House for a Single Person. The recall of that incident through the dialogic understanding that Shreya sets up, between a house and its evacuation of all material content, speaks to the recognition of the persistence of human aspiration. One that is sought with such rigorous endeavour, even as it is circumscribed by our limitations."
(Gayatri Sinha in the essay Shreya Pate: House on the Move – Fictions of the Object World)
Shreya Pate attained an MA in Architecture at the Royal College of Art, London (2019) and B. Arch from the Bharati Vidyapeeth College of Architecture, University of Mumbai (2014). She is a recipient of the Critical and Historical Studies Award, granted for her dissertation at the Royal College of Art (2018). She was nominated for the Charles Correa Gold medal (2014) for her design dissertation. She has collaborated with the Design Museum in London on a live project, worked as an experience maker at the Tate Modern, London and as an art director and scenographer on short films and magazine features, with Marie Claire, Italy and Welcome Trust, London. She has previously worked at various design studios in Mumbai including Studio Mumbai Architects and NU.DE Design Studio. She lives and works in Mumbai.