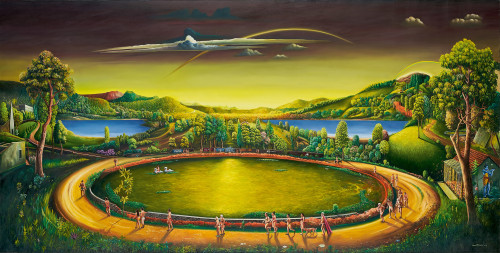 Vinod Balak has often explored the permeation and permutation of myth in his paintings — a preoccupation he takes further in "Tomorrow's Land", his second solo exhibition at Galerie Mirchandani + Steinruecke. The lens is panoramic in these highly chromatic, almost synthetic landscapes. Nude and semi-nude figures exercise, jog, work and perform. Religion and a culture of regime are pervasive.
Particular paintings comment on religious invasion that is coincident with ecological invasion. Krishna appears on a wall in "The Circumambulation" and the legend of Parasurama is revisited in "The Saint and the Invaders". But there is a modern context to the settings. Balak lays out a minutely detailed universe in utopian garb.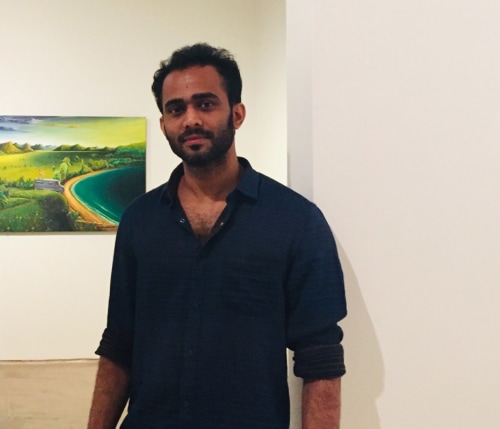 Born 1982 in Kerala, Balak attained a BFA in Painting from the Government College of Fine Arts, Thrissur, and an MFA in Painting from the S.N. School of Fine Arts, Hyderabad. He has held two solo exhibitions – "Venus Retrograde" and "Tomorrow's Land" at Galerie Mirchandani + Steinruecke in Mumbai (2010 and 2020, respectively). Group shows include "Games of Chance", Sunaparanta, Goa (2020); "Nine Artists from Kerala", Galerie Mirchandani + Steinruecke, Mumbai (2018); "New Selections: South Asia", Thomas Erben Gallery, New York (2012); "Flying", Kunstlerhaus Bethanien, Berlin (2012); and "Roots in the Air, Branches Below – Modern and Contemporary Art from India", San Jose Museum of Art, USA (2011). He lives and works in New Delhi.