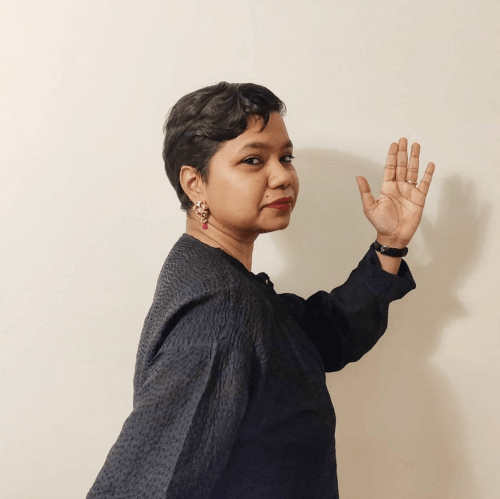 In her art-making, the format of the book has played a central role for Vidha Saumya. The powerful drawings in 'Purdah' (2007), which she made while studying for a Diploma in Visual Communications Design at the Srishti School of Art, Design and Technology, Bangalore, began with a curiosity about the religious and social ramifications of Islam. While at Srishti, Saumya was awarded a scholarship by the South Asia Foundation for an Independent Study Programme at Lahore's Beaconhouse National University, in 2007. In Lahore, she documented ephemeral encounters with Lahori rickshaw-wallahs in a book of illustrations titled 'Guftagoon: Gutargoon' (2008), which prompted her to repeat the adventure with their counterparts in Bombay. The following year, she developed a book of drawings titled 'Explosives' (2009), which enacted an overheated sexual fantasy; but its shock value was blunted through a repeated assault on our senses.
Around this time, Saumya began experimenting with larger drawings on Chinese rice paper. These displayed a certain anxiety, that comes from feeling the need to expose the bodied self, but not being able to go all the way. With her fine embroiderer's or calligrapher's eye for detail, Saumya captured large-bodied performing women, who posed in lingerie, very coy and unsure, awkward even. They were facing young fashionable lads. Gradually, the men were substituted by gestures made by the women themselves. The women transformed into floating bodies submerged in an exaggeration of emotion and gesture. Saumya's works occasion a strangely ambivalent erotics. While the elaborate masquerade performed by these wild women protagonists is flagrantly on display, their bodies, touching, leaning, falling over each other, erase the boundaries between self and other, between bodied self and self-in-transit.
Vidha Saumya is a Helsinki based Artist-Poet whose body of works - Monumental Drawings, Intimate Mark-makings, Murals, Books, Poems, Sculptures, Embroidered Textiles, Food Art, Videos, and Digital Artifacts - are wry and warm in their politics and kaleidoscopic in their aesthetics. The concept of Heimat / (Home)land is at the core of her praxis. She has studied art and art theory in Mumbai, Bengaluru, Lahore and Helsinki and has exhibited across India and North Europe.