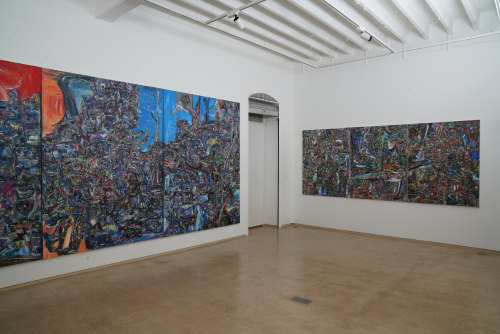 To view P.R. Satheesh's large-scale, often multi-panel paintings, is to be overwhelmed by the unbridled currents of his pigment and his heightened sense of colour. There is a fluidity and spontaneity in his application of throbbing blue-greys, acid yellows and luminous greens, the percussions of thick vermilion and chalky pink. His layered compositions suggest the play of light filtering through forest canopy and undergrowth. This is no coincidence. Satheesh's spice-farming family had moved from the plains, to the mountains in Munnar. He spent his childhood in a border zone between farm and forest, where one's life might depend on the accurate reading of signs indicating changing seasons, sudden shifts in weather, or the incursion of predators.
Although he has lived, studied and practised his art in Trivandrum, Chennai, Bangalore and Ahmedabad, Satheesh decided to return to the family farm, and for several years now has continued making art while also working on the farm. His gestural expression generates its own distinctive vocabulary of loop, spiral, smear and dribble. Through this turbulence, we detect a choreography of faces. We sense the continuous, constantly negotiated interrelationships among strokes and currents, as well as figures both vestigial and manifest, across his picture surface. Satheesh records the passage of an elusive self through a kaleidoscope of personae.
Born 1970 in Kerala, Satheesh attained a Bachelor's Degree in Painting from the Government College of Fine Arts in Trivandrum. He has participated in the 4th edition of the Kochi-Muziris Biennale, curated by Anita Dube, Kochi, 2018-19. His works are in the collections of the National Gallery of Modern Art in New Delhi and Kunstdepot Goeschenen, Switzerland.