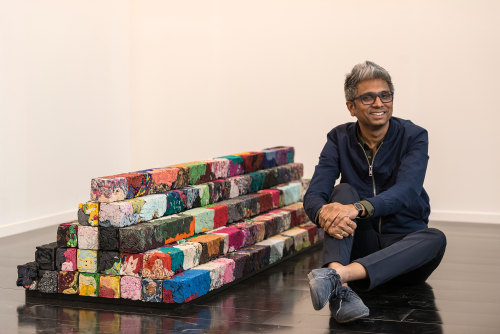 The abstract, formally spare and physically compacted work of Manish Nai stems from his dialogue with certain emblematic examples of late Western Modernist art, coupled with his preoccupation with materiality, which pushes his practice towards the making of simple, unitary forms that are salient in Minimalism.

Nai decides to exploit his material's malleability – by twisting and wringing and folding it – and then shapes and compresses its tactile voluptuousness into fairly monumental rectangular or square slabs. The process of compressing the materials – jute, corrugated cardboard, newspapers, old clothes – hardens their initial malleability, desiccates their ductility, transforming them into flattened fossilized versions of themselves.

The particular process deployed by him has led his work to take a more playful turn as in the slender 'poles' or 'beams' made of compressed clothes that are portable, lighter to handle, more vivid in their colouristic appeal. These are either serially propped up against a wall (recalling the similar disposition of a series of distaffs in a famous work by Jannis Kounellis) or piled up in a heap on the floor. Considered individually, the pole cannot but recall the portable coloured wooden staff that was a signature pictorial element of Andre Cadere's performative and conceptual practice.
Deepak Ananth