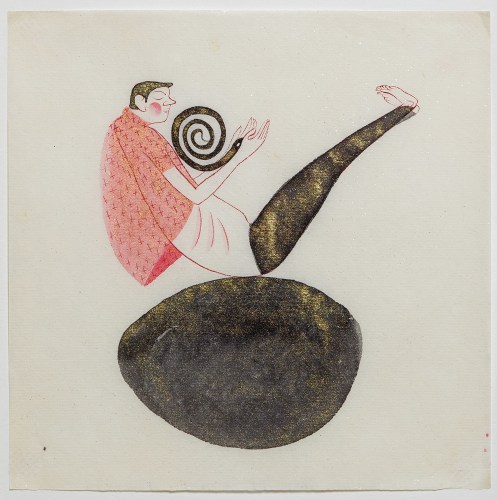 'Mukherjee trained at Santiniketan and MS University—under the tutelage of Jogen Chowdhury and K.G. Subramaniam—which is reflected in the quality of each work to convey narrative possibilities, a strong sense of observation, plot and scene with minimal embellishment.
Many works feature a singular figure and its extensions—diminutive and separate, yet inextricably connected to the larger figure, exploring the shifting, kinetic terrains of building relation—with oneself, the other and the world. In Mukherjee's paintings how we navigate life, our private and public spaces, are never a fixed reality—there are surprises and spontaneity, irony and joy—the self is constantly created, renewed through the rituals of daily life, questioned and altered through countless experiences and understandings. The force of humour—what Simon Critchley describes as "tension between expectation and actuality", resides in its ability to lead us up to the point of aspiration, only to present us with the real, the undeniable, the inevitable. This movement of the comedic, where a chuckle is a sign of acquiescence, acceptance or greater self-awareness it writ large onto these canvases.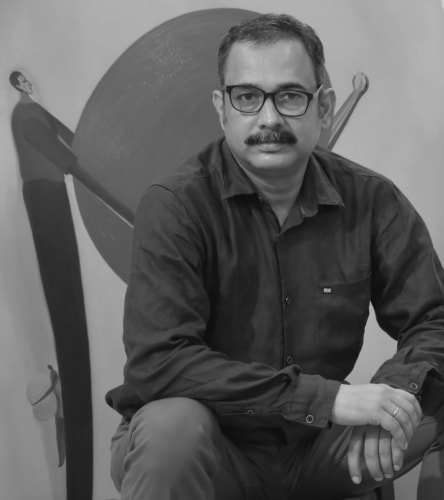 Mukherjee evokes the soft cadences of joy and sorrow, loss of self and the precarity of solitude through the infusion of small elements—an easel props up a figure as if lending support, another figure carries their own self and inexplicable baggage on their back. It's difficult to describe the feelings encompassed in these works, perhaps because they capture what is most difficult, most intimate—everyday pains of loving and losing— oneself and another.'
(Excerpted from the essay written by Arushi Vats)
Born in 1976 in West Bengal, Mukherjee attained a BFA in Painting at Kala Bhavan, Santiniketan, and an MA in Printmaking at the Faculty of Fine Arts, MSU Baroda. For a year in 2012, he was at the China Academy of Art in Hangzhou on a Chinese Government Scholarship, and in 2013 he was Artist-in-Residence at the Da Wang Culture Highland in Shenzhen. In 2020, Galerie Mirchandani + Steinruecke presented his oils on canvas and watercolours from the series "Within — Without", in the fourth edition of IN TOUCH, an online collaborative platform between galleries in India and Dubai. His exhibitions include Visualized Truth II, Ramybes Gallery, Lithuania (2013); Epines d'Eden, Galerie Dubois Friedland, Brussels (2014); Body as Site, Galerie Mirchandani + Steinruecke (2015) and solo presentation by Galerie Mirchandani + Steinruecke at the 2015 India Art Fair, New Delhi. He lives and works in New Delhi.