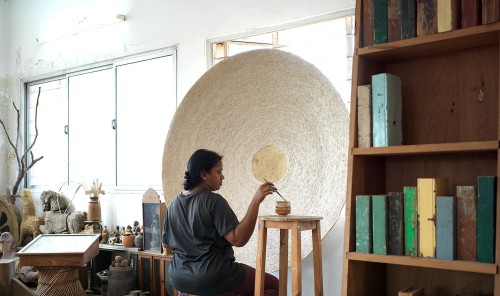 BORN 1978 IN VELLORE, TAMIL NADU
BFA, Painting and Printmaking, Government College of Arts & Crafts, Chennai
MFA, Painting and Printmaking, Government College of Arts & Crafts, Chennai
Lives and works in Chennai
Benitha Perciyal's practice emerges from her sustained engagement with materials, and their unique cultural lives. Her installations build on the qualities of the materials and objects she works with, which include but are not limited to, re-used Burma Teak, resins and fibres, spices, seeds, frankincense, Figwood, powders of coal and bark, and even Kolu dolls — bazaar-bought figurines displayed during the Autumn festive season in South India.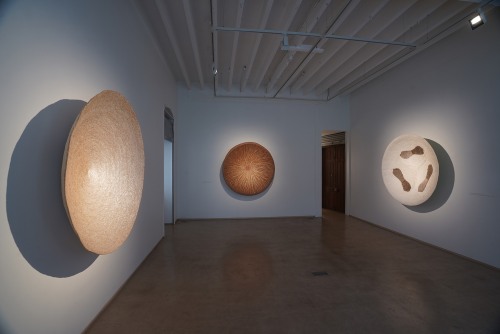 In her exhibition "Aggregate" at Galerie Mirchandani + Steinruecke, a multiplicity of portable library cupboards, assembled from re-used Burma teak, are arranged with row upon row of 'books' sculpted from discarded bits of beam, their paint chipping, their titles laser-engraved onto their spines. To quote Delhi-based art critic Rosalyn D'Mello, "Perciyal is perhaps one of the most mindful artists we can boast of, whose works are always a case of careful consideration with exacting, laborious proportions and deliberations that make them flawless yet wholly vulnerable in their exposed tactility." Throughout, the exhibition proposes the essence of the Aggregate. This extends to the building up of surface, layer by layer, of the interiors of her wall-mounted sculptures. The four wide mouthed containers in the exhibition, each cast as paper mache of a different fibre, are meticulously clad with the translucent seeds of the Spathodea Campanulata.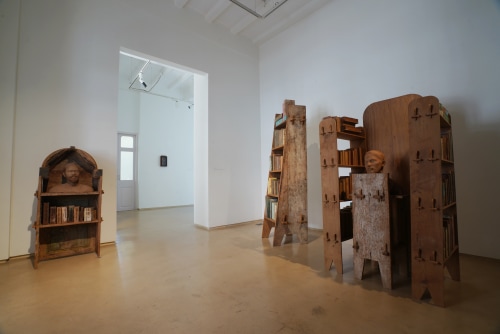 Benitha has been particularly interested in exploring the vernacular in Christian faith in India, through architectural forms and traditional arts. The figures she casts, free of armature, and made of a fragrant dough of materials of ritual practice, are sometimes incorporated into the space, as are the Kolu dolls, which she re-casts in resin. Succinctly put by Chennai-based writer Sadanand Menon: "Benitha is among the few contemporary artists who exults in celebrating the sensuality of memory, erasure, trace. To mark the passage of time as an incremental aggregation is a crucial concern for her."