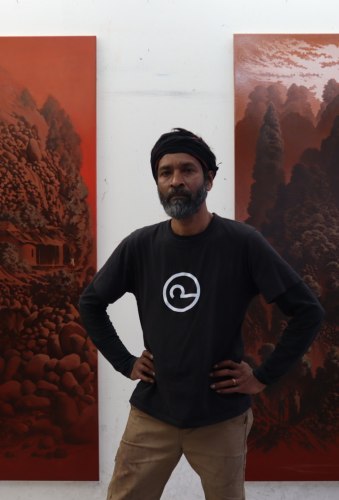 Born 1968 in Kerala
BFA, College of Fine Arts, Trivandrum
MFA, College of Art, New Delhi
Lives and works in Rotterdam and Kochi
Aji V.N.'s education took him from the art school in Trivandrum, to the Delhi College of Art where he enrolled as a student of painting. In the capital, he was able to indulge his enthusiasm for classical music as well as trawl the city's museums in an attempt to compensate for what he perceived to be an insufficient knowledge of his own cultural heritage. At the National Museum he familiarized himself with temple sculpture, miniature painting and Chola bronzes, while at the Crafts Museum he came into contact with tribal, village and temple artifacts from all over India. From Delhi he had moved to Baroda to be part of that city's artist community, then back to Trivandrum for a brief period teaching in the art school, and then finally to Rotterdam to be with his wife who is Dutch.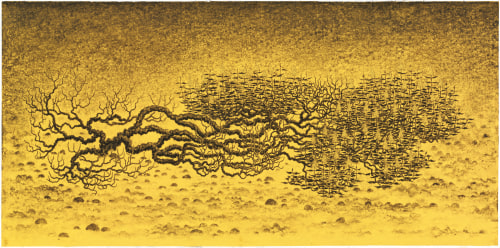 Aji V.N.'s works are an investigation into the picture-making possibilities of line, form, tone, dimension, presence, distance, and illusion. In the nature of things as well as their representation, one can find an affinity, a basic repertoire that can be observed and drawn out by the artist. And yet his paintings do retain something of a narrative quality and a sense that something is happening — something perilous and fraught with anxiety. Inevitably moving through an evolutionary process, his drawings and paintings seem to be about an "elsewhere". The artist believes in a multi-directional evolution in which any moment or place could be a point of departure. Maybe one could describe this view as a post modern idea of multiplicity.

(Excerpted from the essay 'The Nature of Things' by Grant Watson​)