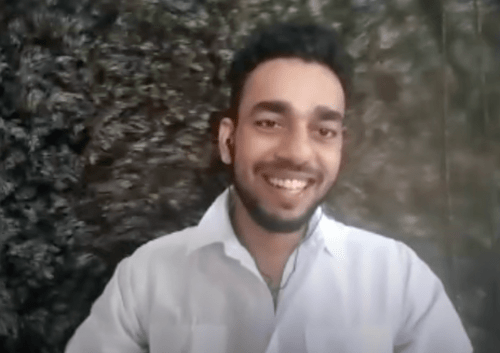 Born 1987 in Thrissur, Kerala
MFA (Painting), S.N. School of Arts, University of Hyderabad, Hyderabad
BFA (Painting) Government College of Fine Arts, Thrissur, Kerala
Lives and works in Thrissur, Kerala
Abul Hisham translates impulses culled from the Safavid, Mughal, Rajput and Deccani repertoires into an expressionist vocabulary, developing a sequence of portraits and tableaux that are uncanny, riddling, and phantasmagorical.
His scenes speak frequently of his native India, but often the inhabitants are from elsewhere. The exploration of shared histories, and of hierarchy and power, have been tarting points for his work. Concerns that show up in Abul's work are religious conflicts and caste systems, which he considers the two most compelling issues today.
Abul's interest in the existential finds expression in the medium of dry pastel, which he has been using over the last decade. The experience of working with the powdered pigment is like sculpting from dust, and recalls the Christian and Islamic belief that humans were created from dust to which they return after death. Some of the pastel pigments that Hisham uses are made from mined minerals, themselves part of the cycle of creation and transformation over millennia.
His solo exhibitions include "Recitation", Galerie Mirchandani + Steinruecke (2019), "New Works", Galerie Mirchandani + Steinruecke (2014), and "DOMINATION", Kashi Art Gallery (2010). His works have been shown in multiple group exhibitions — "An Ocean in Every Drop" at JAMEEL ART CENTRE, Dubai, U.A.E (2022), "De Jacht", Group show at Galerie Deschans, Amsterdam (2022), "In the Land of Downside Up", curated by Nancy Adajania, Birla Art Academy, Kolkata (2019), "Nine Painters from Kerala", Galerie Mirchandani + Steinruecke (2018) and "DWELLING, 10th Anniversary Show", curated by Ranjit Hoskote, Galerie Mirchandani + Steinruecke (2017).