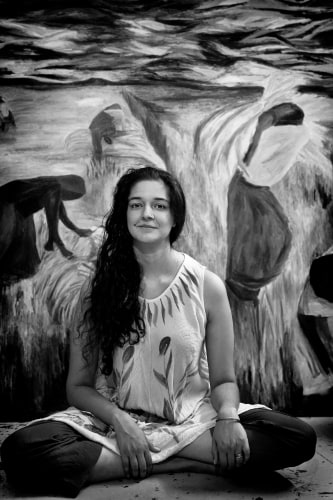 Among the many things encountered in Aban Raza's paintings, there are axioms for this fragile moment in history. The air is potent, nestled precariously between entangled limbs on buses and in quiet shafts of light. Shelves and seats meld as the body takes the shape of that which is unoccupied. In these journeys bodies abound — it is a reminder that even as we seclude and withdraw from shared spaces, many continue to inhabit what Aban Raza calls a "tight reality". This "tightness" leads to bold strokes and fluid lines, figurations that convey the bodily discomfort of those on this journey—denying us the solace of conjuring nostalgic visions about the crumbling state of public utilities, and confronting us with difficult questions that will stay: What happens to the people who rely on these? What happens to welfare?
These questions pervade the densely coloured scenes, as assertive strokes capture physical markers of labour on the body. A group of women stand in the foreground, beyond their house lies the landscape they nourish with their hands. In the bare walls of their homes, one thinks of subsistence and how invisible female labour and their contribution to production still is, so that even the use of the word "farmer" to describe their occupation requires "woman" as a prefix.
Aban Raza (b. 1989 in New Delhi), held her first solo exhibition titled Luggage, People and a Little Space at Galerie Mirchandani + Steinruecke in Mumbai in 2020. Her works have been shown at Art Heritage, New Delhi in 2014 and the Lalit Kala Akademi, Lucknow in 2012. In 2020, Raza curated Celebrate. Illuminate. Rejuvenate. Defend the Constitution at 70 and in 2018 Beyond Dispute: Landscapes of Dissent for SAHMAT, New Delhi. She is currently Visiting Faculty in the Graphics Department, Faculty of Fine Arts, Jamia Millia Islamia. Raza is a recipient of the Somnath Hore Award (2013); the AIFACS Award (2014); and a Lalit Kala Akademi Research Grant (2013-14). She lives and works in New Delhi.