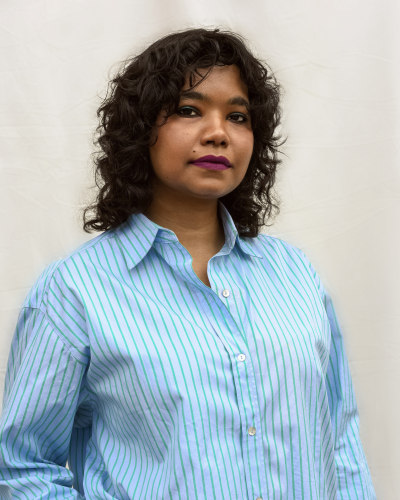 Vidha Saumya's art practice is woven through the concept of (Home)land. Notions of exile and utopia potently charge her work, including poems, murals, drawings, photographs, videos, books, embroidery, sculptures, culinary interventions and digital artifacts. Her works question the normatives of aesthetics, gender, taste, academics and the most gigantic one of our times – the populist nation-state.
In her current practice, she recreates the delicate and overwhelming experience of a hyper-mediated digital media experience through cross-stitch works. These cross-stitch works are not just 'digital' in their surface but also in their content and process. Just like digitized images are constantly printed, shared, reshared and kaleidoscopically reframed in media feeds, these works relentlessly change their context and meaning. These 'digital drawings' often begin with a found photograph – an exploding bus in a national protest, shattered window panes in a conflict zone, a peaceful sky over a war zone, or the rose bush outside her window.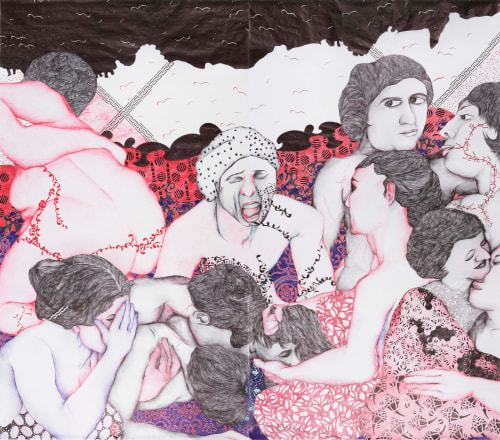 In her art-making, the format of the book has played a central role for Vidha Saumya. The powerful drawings in 'Purdah' (2007) began with a curiosity about the religious and social ramifications of Islam. In Lahore, she documented ephemeral encounters with Lahori rickshaw-wallahs in a book of illustrations titled 'Guftagoon: Gutarrrgoon' (2008), which prompted her to repeat the adventure with their counterparts in Bombay. The following year, she developed a book of drawings titled 'Explosives' (2009) and 'Gunpowder' (2017), which enacted an overheated sexual fantasy; but its shock value was blunted through a repeated assault on our senses.
Since 2010 she has made drawings with ballpoint pen on Wenzhou paper. With her fine eye for detail, Saumya's figurative works depict human bodies in various visceral unconventional and ambivalent erotic encounters. These bodies are often submerged in an exaggeration of emotion and gesture, performing elaborate masquerades and flagrantly displaying their bodies, touching, leaning, and falling over each other, erasing the boundaries between self and other, bodied self and self-in-transit.
Vidha Saumya (b. 1984, Patna, India) lives and works in Helsinki. She is the co-founder and co-editor of NO NIIN, a Helsinki-based online monthly art magazine, and a founding member of the Museum of Impossible Forms, Finland. She has studied art and art theory in Mumbai, Bengaluru, Lahore and Helsinki and has exhibited across India and North Europe. Vidha Saumya is one of the three artists selected to exhibit in the Pavilion of Finland at the 60th International Art Exhibition – La Biennale di Venezia in 2024.